-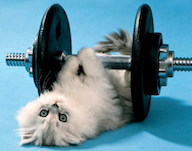 Health is all about keeping the body in motion. Walk, jog, bike, swim, dance ... just move!
The importance of physical movement (exercise), which creates oxygen and detoxification, is scientifically proven to maintain health and wellness mentally, emotionally and physically.

Oxygen levels in the body are critical. Sedentary lifestyles are not conducive to well-being and fitness.

Aerobic Respiration Exercise (oxygen is absorbed and CO2 given off), enhances the function of the body, calming the mind, promoting relaxation, mental clarity and focus, sounder sleep, and supports multiple daily health benefits.

Physical motion kick starts the lymphatic system which promotes elimination of metabolic waste and toxins. When the body becomes sedentary, toxicity starts accumulating and begins to poison the body.

Besides Tai Chi or Yoga, the Chi Machine is an excellent choice. No stress to the body, no sweat. Just lie flat on your back, relax, meditate, and enjoy the Chi rush at the end.