Meridians,Chakras and our Body Clock:
Energy Pathways, the Cycle of Chi.

Western Doctors Vs Far Eastern Healing and Wellness:
Western medical practitioners are extremely limited in their training.They are taught anatomy and given authority to legally prescribe toxic drugs. When the drugs do not heal the physical diagnosis, the doctor then prescribes more drugs or directs the patient to surgery. The focus is on putting a band-aid on symptoms, instead of uncovering and terminating the source.

The traditional Chinese medical doctor is taught how to direct the patient to remain welland focus on the source of symptoms that arise. Ancient Chinese physicians were paid only while their patients remained healthy. By contrast, Western Hippocratic physicians are taught to diagnose symptoms and then proceed to demand huge amounts of money for the toxic band-aids that follow. Western doctors are sought out only after disease has become established.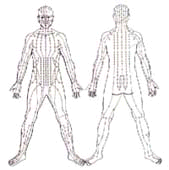 Meridians - Energy Pathways.
If Chi flowing though these pathways is trapped,
the result is pain and illness.
If the Chinese did not discover medicine, Western doctors would not have such advanced medicine as we have today. However, the majority of traditional Western doctors have never read the renowned medical book the 'Nei Ching' (the first documented medical book ever written and still used today), they have never studied Traditional Chinese Medicine (TCM), and they do not understand the basic, simple principles of Yin and Yang (male and female) energies - let alone the ancient, proven healing modalities and philosophies of Ayurveda, Acupuncture, T'ai Chi and Qi Gong - sources to the core understanding of health, strength, longevity, vitality and wellness.

OUR BODY CLOCK:


Probably, the most important factor, is to acknowledge and understand the

TCM 24hr Circadian Clock

of chi energy circulating thru the body. There are twelve meridians - six are Yin and six are Yang - belonging to every major organ, which repair and maintain the body everyday, with each meridian having a peak time and a low time. If we live in awareness and harmony with our body clock, health and wellness is present consistently, as opposed to Western lifestyles which do not teach the body clock and in fact trample on it, ignore it, and suffer the consequences.




Why do we wake up, or feel ill,
at a certain time of day?


The Cycles of Chi - 24hr Body Clock.



The time of day your symptoms manifest, indicates where the energy problem originates and the organs responsible.

Chi energy moves through each meridian every two hours as seen above, beginning with the lungs at 3am everyday. During those two hours of focus, the meridian and its corresponding organ works to invite and activate optimal performance, maintenance and repair if needed, providing release of stagnation or blockages. Looking at the chart above, directly opposite each organ is another organ, so that whilst one is at peak focus, the opposing is in low focus.

The body clock is natures way of guiding our health. Each organ represents specific actions and functions mentally and physically. Our internal clock directs us as to what time is best to eat, to sleep, to play, to engage in sports, to study, to create, to travel, to party, to have sex, even when to to take medication or to have chemo etc so that our Chi can be flowing freely, balanced and energized, thus enhancing our body, mind and spirit.

Want to know why you are more likely to have a heart attack in the morning, or crash your car around 2pm? Watch this BBC Horizon Documentary: "The Secret Life of Your Body Clock" - http://topdocumentaryfilms.com/the-secret-life-of-your-bodyclock/






Chakras - Spinning Energy Centers.
Yoga centers the body by holding different postures
that connect with the chakras.

Every body houses several energy hubs which correspond to the exact same colors in the exact same order as the rainbow. If an energy center, known as a Chakra, becomes blocked, specific emotional and physical problems begin. To heal the body, mind and spirit, is to bring the chakras into alignment and balance.

Chakras - Color Frequencies and Music Note Vibration: RED - C:

Base/Kumdalini/Root Chakra - Located at the base of the spine.
Red stimulates circulation and raises blood temperature.
This chakra grounds us in the physical, related to security and survival.
Red may be used to care for anemia, fatigue, exhaustion and paralysis.
Use this color energy sparingly as too much can transform into anger and aggression.

ORANGE - D:

Spleen Chakra - Located beneath the navel.
Home of creativity, vitality, sexuality, hormones, kidneys, urinary tract and reproduction.
Engage in projects, hobbies and activity that brings pleasure, laughter and joy. Get a pet.


YELLOW - E:

Solar Plexis - related to the pancreas, digestion, liver and outer adrenal glands
The seat of our emotions. Blockages manifest as anger, sense of victimization, poor me, resentment.
Yellow may be used to relieve rheumatism and arthritis - it is also believed to cleanse the body.
Take a 15 min sunbath everyday to ward of pain, flu and cancer. Animals do it everyday intuitively.

GREEN - F:

Heart Chakra - related to the thymus and the heart - balance and harmony.
Blockages manifest as heart or immune system problems, lack of compassion.
Green is believed to influence cell structure and muscles.
Get out in nature to relax, recharge and heal.

BLUE - G:

Throat Chakra - Parallel to the thyroid gland - All about communication.
Blockages manifest as insomnia, inflammatory conditions, stress, tension, migraines, skin problems.
Relaxing by the ocean or by a river or lake, cleanses the body, heart and soul.

INDIGO - A:

Third Eye Chakra - Linked to the Pineal Gland.
Connected to the higher self, intuition and psychic abilities.
Once the pineal gland becomes calcified by fluoride from drinking water, toothpaste and food, health deteriorates as does sleep.

PURPLE - B:

Crown Chakra - Located at top of head.
Connection to higher spiritual realms.
Associated with helping congestion and sinuses and in calming the nervous system.

Did you know

that eating in a blue environment decreases your appetite, whilst a red environment enhances your appetite? The colors of your home and the clothes you wear, reflects your energy, wellness and emotional state. The colors you choose to have in your life are a reflection of the inner you and speak a thousand words. Look at what is missing in your life, and introduce that color.

East Versus West

It is no surprise that orthodox Western physicians scoff, dismiss or disdain Far Eastern methods of healing, and the very mention of the word Chi, because it is not in their financial and corporate interest to heal patients, let alone to prevent disease and illness. It is therefore no surprise that millions of people worldwide are turning to Far Eastern medicine and wellness methods, otherwise known in the West as 'alternative healing', which is really natural healing without toxic chemicals. It is Western medicine that should be named alternative.

Kudos to Dr. Oz on the Oprah Winfrey show for educating the American public about Chi, Meridians, Acupressure and Reflexology.

Thousands of people every year, are now traveling to Thailand, China, Japan, Brazil, Germany and Mexico for affordable, non toxic, alternative healing. Western medical practitioners need to become educated as soon as possible regarding Chi energy, electro-therapy and

Far Infrared

heat energy, or expect to receive the very same ridicule they harbor towards the wise and ancient Far East, directed towards themselves.

It is worth pointing out that even little children in the Far East know what CHI is, but adults in the West cannot even pronounce the word!

With cyberspace at our fingertips, extensive research is now possible for everyone, which means the numbers of the once faithful followers of the greedy and archaic methods of the Hippocratic Western medical establishment, are now declining. Afterall, without health, dreams and desires become irrelevant.

Open your mind, research and learn what mainstream schools and media have kept from you. Choose healing methods that best suit your lifestyle. Take control of your health.