For use in the comfort of home,
or within any health and wellness practice.

Non-toxic, affordable, natural health care:

Worldwide, thousands of people just like you, are searching for safe, easy to use, painless, convenient, alternative, natural healing therapies without becoming dependent on toxic drug band-aids, expensive health care, or health club memberships. Most importantly, people are seeking to have something that works. The SOQI Bed can be set up within the comfort of your home, or within any health or healing business practice.
Who is it for? All of us:
Whether in perfect health or otherwise, the SOQI Bed is for everyone in all walks of life and settings. From housewives and business men to gym enthusiasts, professional athletes, children, the physically challenged and the elderly. There are no side effects involved, no pain, no needles, no invasive procedures and no medication. Simple, natural, safe, non-toxic, natural healing, for health, fitness and daily wellness.

Clothing is optional - Far Infrared is a dry heat used
close to the body for optimal penetration and benefit.

1) Family - Set up a room or space in your home for your entire family to relax, re-charge, maintain health, and heal as needed. Stressed, tired, in pain, no energy, can't sleep, lacking mental focus, health challenges? This is a powerful, natural, non-toxic, without side effects, easy to use, long-term sustainable solution.

2) Create your own Home Business with the SOQI Bed Spa, for your community.

3) Massage Centers, Beauty Spas - The relaxing Chi Machine internally massages and stimulates the body, temporarily relieving muscle pain. The Far Infrared supports, maintains and promotes health and well-being. Both machines promote relaxation.

4) Fitness Centers, Health Clubs, Sports Teams - Warm up and cool down. The Chi Machine loosens up the body and promotes mentally clarity and focus. Ideal for sports injuries and pain relief.

5) Integrate or create your own exclusive SOQI Spa in your local town or city - SOQI spa centers can be found across Asia, Australia, Europe, Canada, Mexico and now the USA.

6) Corporate World - Many corporations worldwide acknowledge the importance of employee health. Set up a SOQI Spa room for lunch breaks. Healthy, focused, unstressed employees promote better productivity and less sick leave.

7) Health Care Professionals, hospitals and clinics everywhere.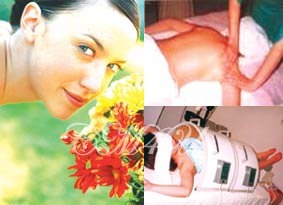 SOQI Spa Health Centers
Global health and healing.