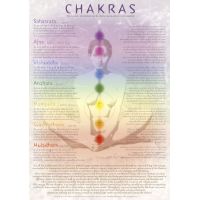 Chakras - Spinning Energy Centers.
Yoga centers the body by holding different postures
that connect with the chakras.
Every body houses several energy hubs which correspond to the exact same colors in the exact same order as the rainbow. If an energy center, known as a Chakra, becomes blocked, specific emotional and physical problems may occur.
Healing the body, mind and spirit, is to bring the chakras into alignment and balance.
Chakras - color frequencies and music note:
RED - C:

- Base / Kumdalini / Root Chakra - Located at the base of the spine.
- Red stimulates circulation and raises blood temperature.
- This chakra grounds us in the physical, related to security and survival.
- Red may be used to care for anemia, fatigue, exhaustion and paralysis.
- Use this color energy sparingly as too much can transform into anger and aggression.
ORANGE - D:

- Spleen Chakra - Located beneath the navel.
- Home of creativity, vitality, sexuality, hormones, kidneys, urinary tract and reproduction.
- Engage in projects, hobbies and activity that brings pleasure, laughter and joy. Get a pet.
YELLOW - E:

- Solar Plexis - related to the pancreas, digestion, liver and outer adrenal glands.
- The seat of our emotions. Blockages manifest as anger, sense of victimization, poor me, resentment.
- Yellow may be used to relieve rheumatism and arthritis - it is also believed to cleanse the body.
- Take a 15 minute sunbath everyday to ward of pain, flu and cancer. Animals do it everyday intuitively.
GREEN - F:

- Heart Chakra - related to the thymus and the heart - balance and harmony.
- Blockages manifest as heart or immune system problems, lack of compassion.
- Green is believed to influence cell structure and muscles.
- Get out in nature to relax, recharge and heal.
BLUE - G:

- Throat Chakra - Parallel to the thyroid gland - communication.
- Blockages manifest as insomnia, inflammatory conditions, stress, tension, migraines, skin problems.
- Relaxing by the ocean or by a river or lake, cleanses the body and soul.
INDIGO - A:

- Third Eye Chakra - Linked to the Pineal Gland.
- Connected to the higher self, intuition and psychic abilities.
- Once the pineal gland becomes calcified by
fluoride
(from drinking water, toothpaste), health deteriorates as does quality sleep.
PURPLE - B:

- Crown Chakra - Located at top of head.
- Connection to higher spiritual realms.
- Associated with helping congestion and sinuses and in calming the nervous system.
FYI:
Eating in a blue environment decreases your appetite, whilst a red environment enhances your appetite.
The colors of your home and the clothes you wear, reflects your energy, wellness and emotional state. The colors you choose to have in your life are a reflection of the inner you. Look at what is missing in your life, and introduce that color.
East Versus West:
It is no surprise that orthodox Western physicians scoff, dismiss or disdain Far Eastern methods of healing, and the very mention of the word Chi, because it is not in their financial and corporate interest to heal patients, let alone to prevent disease and illness.
It is therefore no surprise that millions of people worldwide are turning to Far Eastern medicine and wellness methods, otherwise known in the West as 'alternative healing', which is really natural healing without toxic chemicals. It is Western medicine that should be named alternative.
Western medical practitioners need to become educated rapidly regarding Chi energy, electro-therapy and
Far Infrared
heat energy, because thousands of people every year, are now traveling to Thailand, Japan, Brazil, Germany, Russia and Mexico for affordable, non toxic, alternative healing.
It is worth pointing out that even little children in the Far East know what CHI is, but adults in the West cannot even pronounce the word!
With cyberspace at our fingertips, extensive research is now possible for everyone, which means the numbers of the once faithful followers of the greedy and archaic methods of the Hippocratic Western medical establishment, are declining. Afterall, without health, dreams and desires become irrelevant.
Open your mind, research and learn what mainstream schools and media have kept from you. Choose healing methods that best suit your lifestyle. Take control of your health.

Raise your vibration:

Sunshine, fresh air, drink water, be in nature, walk barefoot, music, a sound bath, the ocean, meditation, an
alkaline diet
, tai chi, yoga, artwork, favourite colors, dance, sing, a cold plunge, hug your pet, gardening, listen more, speak less, sleep well ...
Checklist: How to raise or lower your vibration, to live at
a higher frequency.