-



Serious Feng Shui
Made Simple, 2022.

Guide to love, wealth and
health energy in your home.

What do Steven Spielberg, Bill Gates, Dream Works, Trump, multiple Fortune 500 companies, Sir Richard Branson and Oprah Winfrey have in common? They all use Feng Shui. Yes unfortunate things can still happen, but utilizing Feng Shui can greatly lessen the chances or soften the impact.

Why not change and align the energy in your home for love, abundance, health and happiness by simply rearranging, adding or removing specific elements and colors? Does your home feel good when you enter? Are there areas you avoid?

Your environment is a total reflection of the energy within you. Are you lacking love, can't find a partner, wanting children, struggling financially, suffer from bad health, receive no respect? Read on ...

Feng Shui is not a religion and it is not superstition. It is simply the balance and harmony of the energy of the environment you live and work in. Generic Western Feng Shui only scratches the surface but there is a deeper, more serious method of original traditional Eastern Feng Shui. We have done all the research for you and made this very easy to apply.




Instructions For Beginners: Work thru this page step by step,
slowly and carefully.




Lets Begin.


Your home represents all the directions of the compass including the center area. Imagine a box divided into 9 squares.



Each compass direction

(each square) has a

numbered flying star

which represents a specific energy, either positive or negative.



Each year

these flying stars move into a different box/compass direction (same as planets moving through houses and signs in astrology).



Each month

a second flying star visits each square, and slightly shifts the energy for good or for bad just for that month (for advanced practitioners only - we don't want to confuse you).
I will explain exactly what elements and colors you need to focus on for each compass direction according to the energy residing there for the current year, pertaining to love, health and wealth. First, understand the elements and colors traditionally associated with each compass direction ...


Feng Shui grid (BAGUA) representing your home,

showing traditional elements and colors associated

with each compass direction.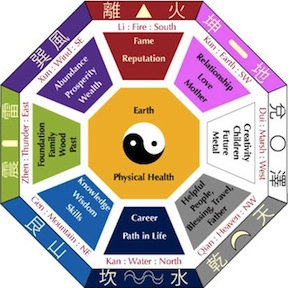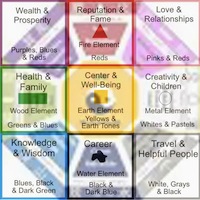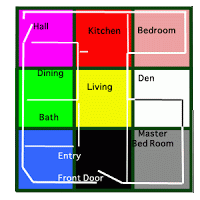 OK, get a compass and determine where your compass directions are for your home: N, S, E, W and NE, NW, SE and SW.


#1 Reason Feng Shui does not work is due to incorrect compass direction reading.
Next ... apply the Elements and accent colors within each room according to the compass direction it is located in:



1) You are going to focus on and add/accent certain

elements

- Earth, Metal, Water, Wood and Fire.

2) You are going to focus on and add certain accent

colors

- red (fire), green (wood), blue (water), silver/gold (metal), earth (orange, yellow), etc - notice that the colors represent a corresponding element.


The Compass Directions:
Element, Color and Meaning.





NORTH: Blue, Black - Water element - Your Career, the Life Path in front of you.



NE:

Beige, tan, cream, yellow, orange earth tones - Earth element - Knowledge, Skills, Communication.

EAST: Green - Wood element - Your Family, Foundation in Life, the Past.

SE: Green + touch of Purple, Red - Wood element - Abundance, Prosperity, Wealth Corner.

SOUTH: Red, Orange - Fire element - Your Reputation, Social Status, Fame.



SW:

Reds, Pink, Orange, Purples - earth tones - Earth element - Relationships, Love/Romance - Mother/Lover.



WEST:

White, Pastels, Silver - Metal element - Your Children, Creativity, Projects, Fun/Joy.



NW:

White, Grey, Silver - Metal element - Helpful Friends/People, Mentors, Heavenly Help - Father/Man of House/Lover.



CENTER:

Earth tones (refer above) - Earth element - Physical, Mental and Emotional Health.




Fabrics and Objects:


Use fabrics such as throws, table runners, scarfs, cushions, rugs, bed sheets - and objects such as candles, plants, vase of flowers, lampshades, crystals, photos and wall art, to accent each element and each color needed for each direction.



Note #1


Each room of your home may be any color you choose and

does NOT have to be the actual color of the compass direction

- instead, add the appropriate elements and accent colors needed to activate the specific energy in each direction with objects and fabrics.

Note #2
After you apply the nine box Bagua to your home layout in general - you can apply the Bagua within each individual room if you desire, especially applicable if you live in a studio or rent a room.

Example: Bedroom is in SW so you first apply earth tone colors and ceramic objects, then, you apply the Bagua within the bedroom according to each direction meaning, such as, in the NE corner of your room, you place your books and awards (knowledge corner).


THE ACTUAL ELEMENT IS MORE POWERFUL
THAN THE COLOR WHICH IS SECONDARY.

Elements and Objects:
Fire - Candles, fireplace or stove - lamps.


Earth - Pottery/ceramics or actual earth in flower pot.




Metal - Home decor object such as candle holder, wall art, photo frame, lamp stand, artwork - Fridge, Oven.




Water - Vase of flowers, indoor fountain or aquarium - mirrors.


Wood - Living plants, an orchid plant, lucky bamboo - NOTE: a wooden object such as a chair or table made of wood is not LIVE wood.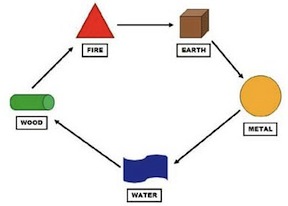 Notice how each element has a specific shape.
Element Shapes:
Fire is triangular, like a pyramid.
Earth is square.
Metal is round like a singing bowl.
Water is curved and wavy.
Wood is tall and rectangular.

To understand how the elements work together, look at how they react in nature:







Productive

- Earth produces metal, metal turns into flowing liquid, water nourishes wood (trees, plants), wood feeds fire, fire becomes earth (ash).



Destructive

- Earth absorbs water, water puts out fire, fire melts metal, metal cuts wood (axe), wood drains earth.



This lovely chart shows clockwise cycle is harmonious.
- Anti-clockwise is used to exhaust an element. i.e Use metal to suppress earth.
- Red arrows show imbalance - add element inbetween to bridge and harmonize.

Example: You would add metal to bridge earth and water, or water to harmonize metal and wood.


Elements in home must be balanced for energy to be aligned. Make sure you don't have an

over-abundance of any one element

and be sure the elements are in the correct location, eg: South is traditionally fire/red, North is traditionally water/blue and black. However ...





Annually:


Every year,

flying stars

which each represent a specific element and have a specific meaning, enter your home and shift the energy for better or worse.

The existing elements and colors may need to be changed, removed, or toned down. There is NO need to go spend money - work with what you have, get creative.

Note: Changing your rooms, moving furniture and cleaning out cupboards and drawers, shifts stagnant energy always for the better. The goal is to balance and harmonize the energy so you will have the least challenges possible in your life and the healthiest, happiest daily life and future possible.

Confused? No worries, keep going ...

After you have applied the traditional foundation of the Bagua compass direction elements and color accents, find out the elements and colors for the current year and apply accordingly to each compass direction.

Click on the Feng Shui Guidance Chart 2022 below, for everything you need to know about this year and most importantly, what to do within your home.




Other information to help you, further down this page: