Chi Machine Benefits Summary:

1) Relieves minor muscle aches, pains and tension caused by fatigue or overexertion - relaxes muscles locally - gentle internal massage.
2) Increases local blood circulation, cell oxygenation and metabolism - promotes mobility and energy.
3) Lying flat on the back opens up the lungs and promotes deeper, calmer breathing - enhances meditation.
3) Stimulation of the Lymphatic System promotes elimination of metabolic waste and toxins.
4) Lymphatic fluid drainage (proven in clinical trials), and dissipation of lactic acid.
5) Healthy back support, promoting alignment and muscle relaxation - no pressure placed on the spine.
6) Promotes both mental focus and physical energy.
7) Induces Alpha waves of relaxation in the brain, coupled with stimulation of the spine's
autonomic nervous system
which shifts the body from 'fight or flight' into 'rest and relaxation' - stress release.
8) Provides a unique experience, the rush of Chi energy (life-force) felt through the body when the machine stops.
9) Common side benefits may include sounder sleep, improved elimination, improved mobility, and general
weight loss
combined with a healthy diet.
Click on photo to view video: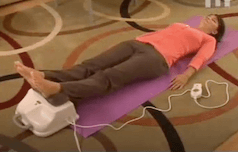 CHI MACHINE VIDEO
Lights, camera, action!

FACT:
1 in 4 Adults - 61 Million Americans - have a disability that impacts their major life activities. The two leading disabilities, are lack of mobility and impaired cognition. Lack of movement, increases immobility and mental dysfunction, increasingly declining as time goes by.

Both disabilities are vastly improved, slowed down, or reversed, by movement, which creates critical oxygenation and circulation, both physically and mentally.