SOQI spas can be found across Canada, the USA, Mexico, Europe, Asia and the Pacific. Individuals who do not own a professional business often choose to set up within their own home for their local community, family and friends. Be your own boss!
Excellent choice for day spas, gyms, sports teams, chiropractors, yoga centers, health clinics, hospitals, business corporations and of course, the home and family.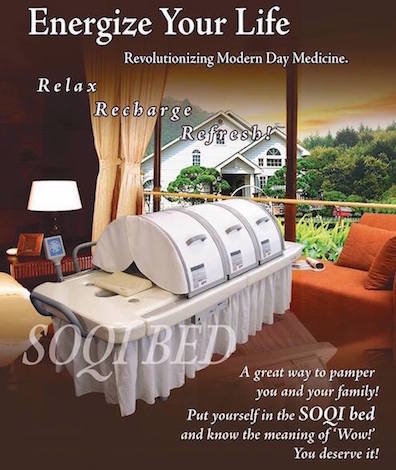 The luxurious SOQI Bed includes music speakers on either side of the head for relaxing healing music to enhance the healing experience. It is common to fall asleep underneath the gentle soothing far infrared heat therapy.
Health benefits range from improved circulation, stress release, rapid relief from pain, swelling and inflammation and detoxification, to serious healing and accelerated recovery. Far Infrared heat therapy has demonstrated positive results for those with respiration challenges, and also made a difference for those dealing with various medical conditions.
Contact us if you need guidance. We have over 20 years of experience from clients worldwide.
The SOQI Bed Spa
From housewives to athletes and
celebrities, serious health and wellness.