*
Prostate Cancer Testimonials
The Chi Machine and Far Infrared Hothouse are often used in combination.


Cancer has a major aversion to oxygen and Far Infrared heat.




Merl Bowers, Picture Butte, Alberta, Canada - July 2001.
"In May of 2001 I was diagnosed with
prostate cancer.
I was told that my PSA blood count was a bit over
1800.
This is an extremely high count. My wife called her son, Ken, and he came out right away and brought the Far Infrared Hothouse dome with him. He had told us about the success others had achieved with lowering their counts while using the FIR Hothouse, and I was willing to try anything, as I did not want to undergo radiation or chemotherapy.
I started using the Hothouse immediately and ordered one for myself that night. After biopsies, bone scans and ultrasounds, I was told at the end of May, that my PSA blood count was at 1885, and that the cancer had spread to my bones (back, pelvis, legs, head, etc.).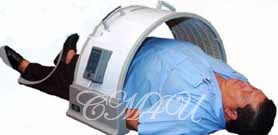 Prostate Cancer Testimonials sent to HTE and Chi Machine International,
for the Far Infrared Hothouse Dome and the Sun Ancon Chi Machine

On June 1st we went to the Cancer Clinic and got the pills to begin the hormone therapy to inhibit the growth of cancer. On June 12th I was taken to the hospital by ambulance after suffering a mild heart attack (unrelated to the cancer). Before leaving the hospital, the doctor injected my first hormone therapy shot. The whole time I had been using the HotHouse dome everyday as long as possible. Some nights I would stay under it all night, waking up only to turn it back on again. During the day I would use it whenever I had the chance.
On July 19th, I went back to the doctor to have my PSA count done again to monitor the cancer. My count had dropped from 1885 to 30!!! This happened in only 12 weeks, one week of which I was in the hospital and unable to use the Hothouse. As 30 is still a very high PSA count I will continue to use the Hothouse with total confidence that I will be able to bring my cancer to "0." Thanks to my stepson Ken and HTE for such a great machine!"
UPDATE 3 1/2yrs later, Autumn 2004: Mr. Bowers is alive, healthy and well! We contacted his wife who told us he was outdoors sweeping leaves from their driveway. - Chi Machine International.


FYI PSA: The prostate gland produces a substance called PSA (prostate specific antigen). A small amount of PSA can be found in blood, but it is mostly found in semen. PSA is measured by nanograms per millimeter of blood. Most men have under 4 nanograms. Anything above 4 may indicate prostate cancer. - Source: About.com


Prostate Cancer Testimonials from HTE Canada
Please understand that although these testimonials are from real people, this does not mean
that any individual that subsequently uses any of these machines will experience the exact same results.


Gordon Lothian, Stavely, Alberta, Canada. I've had prostate problems for the last three years and was getting steadily worse. I tried a friend's Sun Ancon Chi Machine and purchased one and then purchased the Hothouse. I didn't get relief right away, but I kept using both machines. I began to feel a tingling sensation from my feet to my head and that's when the burning sensation that I had been experiencing when urinating and the frequent trips to the bathroom at night disappeared.

My wife has used both machines for the pain in her back, knees and feet and it has relieved them. These two machines have made life so much more pleasant. If you are a prisoner in your own home due to prostate problems, get these two machines and start enjoying life again.

Bob Bosch, Calgary, Alberta, Canada.
The Chi Machine and Hothouse have helped me combat cancer. Two years ago i had a biopsy. It was prostrate cancer. Three months later i had my prostate removed. One year later my PSA was up. I undertook 34 radiation treatments. Three months later my PSA count was higher. The doctor said i had two years to live. There was nothing they could do for me.

My brother came over with The Sun Ancon Chi Machine and a FIR Hothouse. He also introduced me to a friend of his who was getting good results from both machines. I purchased both machines in July 2000. I changed my diet and used the HotHouse one hour per day. The Chi Machine i used for 10 minutes per day for the first week. The second week i used the HotHouse twice a day for one hour each time and The Chi Machine 10 minutes twice a day.

I noticed a big change in my health in about 10 days. On July 17th, 2000 i had a hormone shot. On October 3rd, 2000 my PSA test showed 0, No CANCER!!! The Chi Machine and the Far Infrared Hothouse gave me a second chance for life!!! I feel great and will continue to use both
machines every day.


Prostate Cancer Testimonial from Canada, 2005:
In early 2005 I was diagnosed with prostate cancer. At the time of my biopsy in early January it was shown to be a T3 cancer - extending outside the prostate into surrounding tissue. My gleason score was 7 - fairly aggressive, and although not extremely high, my PSA levels were climbing steadily.

A considerable negative event of the whole biopsy procedure was that I got a severe infection. I was on the strongest antibiotics available and my condition did not improve. The medical doctors just kept pushing bigger and more frequent does of medication my way.

Within a couple of weeks of getting the biopsy results I started on a naturopathic avenue to
a) Reduce the size of the cancer.
b) To eliminate the infection that was causing much worse problems then the cancer ever did.
c) To improve my overall health especially my immune system.

I started with a whole body cleanse and detoxification. This included a nine day fast and after BTA and Vega testing the elimination of a number of items from my diet - wheat, corn, sugar and dairy products being the most significant and hardest to remove. Along with this I used other natural healing modalities. After a few weeks of this regime I was able to bring my PSA levels down into the high 4 range where they stayed for the next couple of months.

I was being pushed to have a radical prostectomy as quickly as possible by the two urologists that I was seeing. I argued for a 'wait and see time' to see if I could bring my PSA levels further down and it was reluctantly agreed on both my part ( I would have liked to have longer) and the surgical "we need to do it now" urologist. The date was set for July 14th.

In mid June a friend, Dennis, suggested I should try out his Sun Ancon Chi Machine and Far Infrared Hothouse to see if they would do anything for me. I used it for about ten days and found it made me feel refreshed and less achy so bought a FIR Hothouse and Chi Machine for myself. I used these up to the evening before my surgery - even taking the Chi Machine across Canada so that I could use it while in Halifax. During this time I was able to bring my PSA levels down even further to 3.8 and just prior to surgery 3.2.

The operation went well and the doctor commented a couple of times on how it appeared that the tumour had shrunk since the biopsy and that I was in very good condition considering what I had just been through.

My stay in hospital lasted only three days. As soon as it was acceptable (no open wounds) I started using the FIR Hothouse again (five minutes twice a day) and within a week most of the bruising and swelling had disappeared. I continued using the Hothouse dome for a few minutes each day until my doctor suggested that I could increase the time I spent under it to what ever I felt comfortable with.

At four weeks post surgery I was using the Far Infrared Hothouse about 15 minutes twice a day and started using the Chi Machine for about one minute a day. It was interesting to note that even with that small amount of time I could feel the 'chi rush' when the machine stopped. I only tried the chi machine for a few days and even with the short duration it was painful to use that soon after the operation. I tried again about two months after the operation and am now finding that I am able to tolerate the shaking of the Chi machine for a few minutes every day.


Here is another testimonial from Edmonton, Alberta, Canada - a wonderful gentleman of 88yrs young:


Clarence Becker 88yrs old.

At the end of January 2003, i was having a medical test and my doctor discovered i had an enlarged prostate. He sent me for tests and my PSA count was 191. The tests also revealed cancer had metastasized in my left hipbone.


I couldn't get an appointment with my specialist until the first day of April. During this time i made necessary changes in my diet. My brother ordered a FIR Dome machine from HTE Canada. I spent 4-6 hours under the dome every night.


At the time of my appointment with the specialist i asked if i could have another test before accepting the hormone injection he prescribed. He was very adamant the he didn't care what we had done or thought we were doing with my PSA count because it could not be anything but higher. I accepted the hormone injection and continued sleeping under the far infrared Hothouse dome. During this time i faithfully did my 20 mins on the Sun Ancon Chi Machine each day.


Three months later, i had a test again and my specialist saud he had good news for me. My PSA had gone from 191 to 8.9. He said he had never seen the hormones work so well before. I asked if it would make a difference with the cancer in my hipbone. My doctor said "The hormones would not touch it. Once cancer is in my bone NOTHING would touch it". I then asked my family doctor if i could have another x-ray on my hipbone and he agreed. When the resuts came back they couldn't finf a trace of cancer. Praise the Lord!


I have kept on taking the hormone injections so i could get my tests and know what my PSA count is. It has steadily gone down and in August 2006, it was .028. This time my specialist finally said, "whatever you are doing keep it up".


I am not sleeping under the dome now and trust me the cancer is dormant. If not i know what to do.


P.S. In August 2007, my doctor decided to dispense the hormone shots for a year and will check me again in August 2008.


If interested please contact me at 780 475 4507.


As of 2013, based on countless testimonials, there is no doubt
the Far Infrared Hothouse Dome contributes to the elimination of prostate cancer.





IMPORTANT NOTE:

There are many reports from patients with advanced cases of cancer using the Far Infrared Hothouse dome day and night to hopefully either destroy or inhibit their cancer. The results have been phenomenal, with many people reporting their cancer erased, under control or hugely diminished.

Chi Machine International and HTE does not claim in any way that the Far Infrared Hothouse Dome kills cancer. Such claims are a) an impossibility and b) could incite a lawsuit by somebody sooner or later, if they did not receive the results they desired. Every persons body, diet, environment and emotional state is uniquely different and we all have very individualized lifestyle and karma to deal with.

However, it must be noted that multiple testimonials from people worldwide - total strangers unknown to one another - indicate that far infrared therapy and oxygen therapy definitely has a positive impact against cancer. The Far Infrared Hothouse is a serious consideration for prostate treatment coupled with mandatory diet change, and other treatment tools.

We have compiled a page of alkaline foods that will prevent and combat cancer - SUGAR MUST BE ELIMINATED - along with proven therapies that the US and Canadian government would prefer kept quiet.


FYI: Did you know - Habanero Chili Peppers cause prostate cancer cells to commit suicide? Taka a look at article in our SOQI News Magazine.


On a personal note, if any of us at Chi Machine International ever face a cancer challenge, there will be not a split second of hesitation to use the Far Infrared Hothouse and Sun Ancon Chi Machine every day, as often as needed. Please read this disclaimer for life guidance, and remember ... at the end of the day, the choice is yours and yours alone.