-
Anti-Cancer Diet, Part 1:
Foods that combat cancer.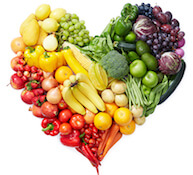 Focus on Vegetables:

Anti-cancer colors are dark green, red and purple.

Broccoli, Cauliflower, Cabbage - prevent estrogen dominance. They have a chemical component called indole-3-carbinol that can combat breast cancer by converting a cancer promoting estrogen into a more nurturing variety.

Brussel Sprouts - excellent for combating breast cancer.

Dark Leafy Greens: Kale, Collard Greens, Mustard Greens, Turnip Greens, Bok Choy.

Spinach - Excellent for protecting against breast and lung cancer.

Cruciferous Vegetables - Broccoli, Cauliflower, Kale, Brussels Sprouts and Cabbage contain two antioxidants, lutein and zeaxanthin that combat cancers.

Kale - nitrogen compounds which may help prevent conversion of specific lesions to cancerous cells in estrogen-sensitive tissues. Isothiocyanates phytochemicals in kale are believed to suppress tumor growth and block cancer causing substances from reaching their targets.

Wheatgrass - A shotgun blast to cancer cells! Chlorophyll content has almost the same molecular structure as hemoglobin. Chlorophyll increases hemoglobin production, meaning more oxygen gets to the cancer.

Selenium and laetrile in wheatgrass are both anticancer. Chlorophyll and selenium help build the immune system.

Wheatgrass is one of the most alkaline foods known to mankind.

Watercress - Lutein content combats cancer cells.

Carrots and Beets (strengthen kidneys). Both have high glucose content but many nutrients that over-ride the sugar and kill cancer cells. Carrots may be eaten raw or preferably juiced.

Raw Carrots (do not cook) - contain a lot of beta carotene, which may help reduce several cancers including mouth, throat, lung, breast, stomach, intestine, bladder and prostate. Juicing is the best method, 3-4 glasses daily if desired.

Lentils: According to a study in the International Journal of Cancer, women who eat beans and lentils have a significantly lower risk of developing breast cancer because they contain antioxidants, fiber and phytoestrogens (also a good source of protein). Lentils stimulate cancer preventing enzymes and can help in lowering harmful estrogen levels.

Mushrooms: Shiitake (stimulates the immune system), Maitake, Reishi - all have protein called lectin, which attacks cancerous cells and prevents them from multiplying.

Hot Peppers - capsaicin, an ingredient of jalapeno peppers, triggers cancer cell death by attacking mitochondria (cell power batteries). Capsaicin, may neutralize certain cancer-causing substances (nitrosamines).

Habanero Chili Peppers - attack prostate cancer.

Cayenne Pepper - increases circulation. Cancer thrives in poor circulation.

Turmeric / Curcumin - inhibits production of the inflammation related enzyme content, levels of which are abnormally high in certain inflammatory diseases and cancers. Tumeric blocks cancer cell growth. In several studies it was revealed that turmeric can reduce tumor size by a 81%.

In India, where women consume curcumin, 79 in a million women develop breast cancer, while in the USA where women do not consume curcumin, thousands of women develop breast cancer.

Note: Turmeric is a natural blood thinner and not advisable for some cancer patients.

Garlic - Helps blood and tissue hold more oxygen which cancer hates. Sulphur compounds are proven to protect against cancer by neutralizing carcinogens and slowing tumor growth. Antibacterial and anti-vial.

Allium compounds (dialyl sultides) seem to increase activity of immune cells that combat cancer and indirectly aid destruction of cancer causing substances. Also helps block carcinogens from entering cells and slows tumor growth.

Diallyl sulfide, a component of garlic oil, has also been shown to render inactive carcinogens in the liver. Studies have linked garlic (also onions, leeks, and chives) to lower risk of stomach and colon cancer.

Ginger - Found to reduce tumors, and significant anti-inflammatory effects. Excellent to reduce nausea and vomiting.

Horseradish - Excellent for detoxification.

FYI: Veggies should be lightly steamed, gently sauteed or baked. Cooking breaks down the tough fiber in vegetables, allowing us to absorb many more nutrients. Raw is ok, such as for salads or juicing.

Vegetables offer hundreds of phytonutrients, provide protection from disease and have the ability to rebuild the body better than any other food. They also provide fiber, vitamins and minerals.


Focus on Fruits:



Choose low sugar fruits. All Berries good for B17 - Raspberries, Strawberries, Blueberries, Blackberries.


Strawberries - In a 2006 study, the higher level of ascorbate (vitamin C) antioxidants found in organic strawberries correlated with a higher inhibition of breast cancer cell proliferation.

Black Raspberries - may prevent colon cancer. Rich in antioxidants, thought to have even more cancer-preventing properties than blueberries and strawberries.

Apricots B17 - the apricot seed is inside a hard shell which may be crushed and sprinkled on food for B17. The Hunza tribe represent a population that has been cancer free for over 900 years of its existence. This population has a natural diet, which supplies on the average between 50-75 milligrams of Vitamin B17 a day.

Eat 1 kernel for every 20 lbs of body weight - e.g. 120 lb person would consume 6 kernels per day. Chew ground kernel until liquified.

FYI:
1) Good source for Apricot kernels, B17 (laetrile): hunzagold.com
2) B17 has been found to be most helpful for colon cancer.

Tomatoes - Loaded with Vitamin C and Lycopene, an antioxidant that attacks roaming oxygen molecules (free radicals), suspected of triggering cancer. Tomatoes cooked in oil (virgin olive oil is ok) may prevent and shrink prostate cancer.

An increased intake of lycopene has already also been linked to a reduced risk of breast, pancreas and colorectal cancer, and also protects from sunburn.

Avocado - rich in glutathione, a powerful antioxidant that attacks free radicals in the body by blocking intestinal absorption of certain fats. More potassium than bananas and a strong source of beta-carotene.

Scientists believe avocados may also be useful in treating viral hepatitis (a cause of liver cancer), as well as other sources of liver damage. Packed with nutrition, a superb food for cancer patients. High in 'good' fat.

High glucose content fruits but excellent for fighting cancer:

Purple / Red Grapes - seeds may be eaten also. Rich source of resveratrol, which inhibits the enzymes that stimulate cancer cell growth and suppress immune response. Grapes also contain ellagic acid, a compound that blocks certain enzymes necessary for cancer cells.

Pineapple - Digestive enzyme is Bromelain. It helps to de-shield the cancer cells protective protein coating, caused by consuming animal protein. Pineapple contains natural pancreatic enzymes (papaya also but only eat organic).

Grapefruits - best eaten for cancer prevention by sweeping carcinogens out of the body. Studies have shown that grapefruit possibly inhibits proliferation of breast-cancer cells in vitro. Citrus fruits have an acidic ph before entering the body but leave an alkaline residue once they have been metabolized.

Note: Cannot be eaten if on medication, will cause nausea.

Coconut meat, coconut milk or coconut yogurt.

FYI:
1) Enzmes - It is often best to juice on an empty stomach so more enzymes can get into the body and work their best. Juice the core of the pineapple for maximum bromelain benefit.

2) Citrus fruits inhibit the formation of cancerous cells. Vitamin C strengthens the immune system.

Raw seeds and sprouts:


Brocco Sprouts, Alfalfa - Brown Sesame, Sunflower, Pumpkin Seeds.

Soak seeds in water so their protective enzyme inhibitors are removed and the enzymes - which have been "asleep," become active - in three days the nutritional values of the seeds are well increased and the seeds become much easier to digest.

Brocco Sprouts - contain phytochemical sulforaphane (a product of glucoraphanin) 20 times higher than regular broccoli - believed to aid in preventing some types of cancer, such as colon and rectal cancer. An exceptionally rich source of inducers of enzymes that protect against chemical carcinogens.

Nuts:
High in protein - best when soaked overnight in water.

Raw Walnuts, Almonds, Macadamia - best eaten for prevention. Recommended for prostate and breast cancer, packed with Omega 3, and protein.

Raw Brazil Nuts - selenium, very important for prostate cancer and breast cancer. Cancer patients tend to have very low selenium levels.

FYI: Be very careful of nuts as they tend to become moldy. Keep intake to a minimum. Avoid peanuts as they are highly toxic.



Hemp Seed Oil for salad dressing - Excellent source of Omega 3 and 6.

Avocado Oil and Flax Seed Oil may be used for salad dressing.

Flax Seed Oil (unrefined, organic) - Omega oils protect you from cancer and inhibits tumor growth (especially breast cancer). Should be taken daily by all cancer patients - two tablespoons can be used as a salad dressing.

Ground flax seeds contain both the fiber and the oil, and have more potent anticancer properties than flax oil alone. Flax seed contains lignans which block or suppress cancerous changes and inhibit cancer cell growth.

Virgin Olive Oil - Most oils will cause havoc on your hormonal system, and induce cancer causing hormones. Greek women, who tend to eat a diet rich in olive oil, have a very low rate of breast cancer. Use for salad dressing.

Raw Sesame Tahini - The oil reduces estrogen. Recommended daily, especially with breast cancer.




Beverages: Alkaline Water / Ionized Water on occasion

(does not hydrate as well as regular water) - all water should be drunk at room temperature, never ice cold.

Coconut Water

from young coconuts (white shell, not brown). Excellent for combating damage done by chemotherapy. It is an electrolyte, it oxygenates the blood, and restores the ANC count, white blood count, hemoglobin, and platelets.

Essiac Tea

- Discovered by Canadian nurse Rene Caisse, proven to combat cancer.

Green Tea

- A potent antioxidant and anti-inflammatory agent. Several polyphenols, the potent antioxidants green tea's famous for, seem to help keep cancer cells from gaining a foothold in the body, by discouraging their growth and then squelching the creation of new blood vessels that tumors need to thrive.

Study after study has found that people who regularly drink green tea reduce their risk of breast, liver, skin, lung, stomach, esophagus, colon, and prostate cancer.

Papaya Leaf Tea

- an effective anti-cancer agent against cervix, breast, liver, lung and pancreas cancers. Research indicates that papaya extract induces cell death.

Focus on Seafood: Iodine:

Found in seaweed and some fish. Japanese women consume 25 times more dietary iodine than North American women and have lower breast cancer rates. Iodine consumption by Americans has dropped 50% since the 1970s as breast cancer rates have risen. Kelp is the best source.

Other sources include shrimp, haddock, cod, herring, halibut, and sardines. Iodine both prevents and combats cancer, and is proven to thin the lymph fluid, thus aiding the lymph system which plays an integral role in cancer therapy.

Brown Seaweed

- Modifilan, Laminaria (good for breast cancer) - contains at least 3 nutrients that kill cancer cells; furanone, fuecoiden, and algenic acid.

Sea Veggies

- Nori, kelp, wakame, kombu, hizike, and dulce. High in iodine which is depleted in Cancer bodies.

Fish

- Wild Alaskan Salmon or Alaskan Cod (NO farm raised fish). Sardines for calcium is most preferred choice of fish with least amount of toxic pollution. Fresh tuna ok but only once a week (radiation from Fukushima and mercury contamination). NO coastal fish or shellfish, or shrimp (toxic metals and carcinogens). No smoked fish.

Omega 3 fatty acids

- found in fish, block the effect of estrogen on breast cells, thus lowering the risk of them becoming cancerous. Eskimo women who have a high concentration of omega 3 in their diet have a lower incidence of breast cancer.

FYI:

The oceans are severely polluted with heavy metal poisons and radiation - including the Pacific coastline (Fukushima), and the Gulf of Mexico (oil and chemical contamination). Eating anything from the ocean and rivers will contain a certain level of toxicity.

Plant Protein:

Apart from greens, nuts, seeds and sprouts,

Hemp Hearts

are one of the very best sources of concentrated protein, essential fats and vitamins found in nature.