'



The E-Power machine not only addresses your health, but is also anti-aging
and known to beautify the face, hair and skin (more info and video below).



Electrotherapy - Body System Focus:


The electrotherapy of the E-Power addresses several different body systems.


The Circulatory System
The Nervous System
The Digestive System
The Urinary System
The Immune System
The Skeletal System
The Skin
Broken down specifically, this means:



1. Energy, Oxygenation, Nerves, pH Balance - Increased cell membrane voltage activates the sodium/potassium pump:

Regeneration of cellular energy and increased body energy.
Improvement of oxygen levels.
Capillaries to receive more oxygen (up to 30% by study Pargon 1967, Peraira 1967).
Increase of vitality and cell function.
Increased nerve regeneration (1998 University Gottingen).
Activates oxidoreductase enzymes to change acid to alkaline.
Improved nutrient supply and improved nutrient supplement utilization.
Changes acidosis to alkalinity.

2. Blood Pressure, Detox, Accelerated Healing, Mental Focus
- Improvement of blood circulation due to vascodilation:

Reduction of blood flow resistance returning to the heart.
Lower blood pressure.
Increased detoxification.

Accelerates healing of wounds.
Increased performance in sports competition.
Aids in clearer mental performance, focus, concentration.

3. Metabolism, Stress, Insulin, T-Cells, Spine:

Metabolism increase.
Cell division benefits.
Vascular function reduction.
Cortisol and adrenaline - stress relief.
Regulation of the adrenaline receptors from becoming adrenaline resistant.
Activation of the insulin receptors (balances insulin better).
Improvement of the nerve function in balance.
Macrophage and T-Cell activation. (Study Carson 1990).
Helps back, muscle, and spinal column therapy.

4. Bones - Triggers the Spleen and Bone Marrow to Increase Calcium:

The piezoelectric effects increase bone tissue. Stronger bones and aid in elimination of osteoporosis.
As you age, the bones resist PTH from the parathyroid gland (thyroid) to make more bone-forming cells. Negative fields increase this function.
Increased calcium level (attested to by medical doctor of patient using the E-Power, April 2008).


5. Healing - Shortens recovery and repair time for athletes and personal physical disabilities:

Strengthen muscles, bones, tendons, and ligaments.
Inflammation reduction.
Improves and heals rheumatism, arthritis, bruises, fractures, paralysis, muscle and nerve tension.
Risk of injury reduced - Regeneration of injured cells.

6. Pain - Relief:

Interruption of transmission of pain stimulus to the brain.
Muscle tension, leg cramps and spasm relief.
Reconection of broken/damaged/supressed/blocked electrial circuitry.


7. Improves the Function of the Stomach and Intestines.


Improved digestion - improved elimination.

8. Beauty - Increased Collagen:

Fibroblast stimulation.
Connective tissue cells activity increase.
Nerve and skin regeneration increase.
Reported to encourage hair growth and has reportedly reversed greying hair for some people.

Reported to diminish jowls and smooth skin.

Reported to remove skin spots and soften/erase wrinkles (watch video below).

Reported to improve vision.


- Info sourced and adapted from HTE USA.

Hair Growth Testimonial:
It was my observation after using the E-Power for some time, that hair started growing back on my legs and under my arms - being 75 years old, this shouldn't be happening! Later on, upon observing a client who had a bald head when we first met, i noticed the E-Power helping him out with hair growth. He had been using the E-Power for a year, and his hair started to grow again. A few months later when i saw him again, his hair was even longer, and thicker. No he didn't have a hair transplant! - Simonne Dosch, Teulon, Manitoba, Canada - April 2013





---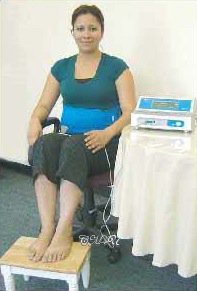 Lightweight and portable, the E-Power machine.
Available from USA, Canada, Mexico, Australia and Europe.

E-POWER INSTRUCTIONS FOR USE:
Take off any serious metal jewelry, bracelets, watches, cell phone etc.
Plug the cord into the E-power machine and the wall outlet.
Put the E-Power belt around your waist with velcro facing out.
Feet need to be off the floor - recline on a couch or bed, or sit on a wood chair with feet on stool.
Press ON button.
Press time button 30, 60 or 90 min or continuous button. 30 min session limit is recommend if using more than twice daily.

Press EPA button to choose low, medium or high.
Press play button.
IMPORTANT: Drink plenty of water before session and again after session.



NOTES:
Glasses may be left on if you would like to read a book.
Do not use a cell phone or computer whilst wearing the E-Power belt with machine turned on.
Belt fits up to 42" waist - Each E-Power machine comes with one belt, but unit has two ports available, for two users per session if desired.

SPECIAL TIP:
If you take a fluorescent light bulb or tube, it will light up on its own when you hold it. If you pass the bulb or tube over your body, the areas where the light is dimmer, indicate the areas that need to strengthen and heal.


---




E-POWER MACHINE COMMON QUESTIONS:
What is the maximum amount of time the machine may be used daily?
Begin with 30 mins in the low mode. Thereafter, slowly increase the time and intensity in increments, up to 8 hours maximum daily if you so desire.

How frequently may the E-Power be used?
Use as frequently as you like. The more sessions, the stronger and more noticeable the results.

Why is no physical stimulation experienced?
If you have healthy capillary function you may feel slight stimulation in the fingertips. The E-Power does not directly expel the electricity to your body. It creates a cell vibration of 70,000 times per second which is best suited to your body, relaxing you, whilst stimulating your cells into action.

The E-Power may enable the body to improve its ability for recovery, build a strong immunologic system and may enable continuous cell reactivation and thereby rejuvenation and wellness on multiple levels - including common challenges such as constipation, headaches or migraines, stress and depleted energy, aging hair and skin, poor eyesight and lack of mental focus.

Fast Facts:

Low energy consumption.
100% safe.
No known negative side effects.
Noticeable long-term benefits within first week to first month of use.
Can be used if taking medication.
Can be used with breast implants.
Can be used regardless of any metal rods or plates inside body.
E-Power lifespan with regular use is 5 years,
1yr warranty on E-Power unit - 6 month warranty on E-power belt.



CAUTIONS - Do not use: If you have a pacemaker or serious heart problems.
If you have a diabetic monitor, or any other internal electrical device.
If you are menstruating.
If you are pregnant.
If you have a high fever.
If you have transplant organs.
if you have kidney problems.
If you are undergoing chemotherapy.
If you have been drinking alcohol.



E-POWER TESTIMONIALS

Real people, real testimonials - must read.