Professional Health Care Practitioners, USA.
Experiences and Observations regarding The Chi Machine.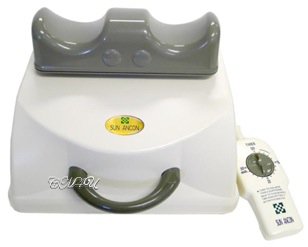 ----


The Original Chi Machine, showcased on The Doctors TV Show.
Simple to use, for home or professional use.

Over the past two decades, countless health care practitioners, both conventional and alternative, from every health and wellness medium you can think of, have voluntarily given feedback on their experiences with all of the HTE machines ...

Family Doctor, Nurse, Herbalist, Allergist, Cosmetology, Teen Counselor, Wellness Center, EMT, Reiki Master, Reading Specialist, Dentist, Teacher, Biofeedback Technician, Acupuncturist, Geriatric Care, Iridologist, Chemical Dependency Counselor, Chiropractor, Plastic Surgeon, Neurosurgeon, Opthalmologist, Cognitive Trainer ... to mention just a few.

Unfortunately the American Food and Drug Administration has requested that all that data for the USA be removed if it contains mention of any specific illness or disease. The overwhelming majority of reviews contained detailed information and case studies. This page therefore no longer has that content, save only a few. We encourage you to explore the website and learn as much as possible regarding whatever you are interested in. Of course you can always call us at anytime.




UCLA School of Medicine, Director, IQ Medical Center, Clinical Instructor of Ophthalmology - Dr. Robert T. Lin, M.D. "The Chi Machine has the potential to relax my patients before their LASIK surgery."
Counselor/ Metaphysician, Springville, Utah - Dr. Jerry Glass Ph.D.
"I use the Chi Machine for my youth and adult clients, in counseling, intervention therapy and stress management classes. My mind, body, and spirit sessions are for the improvement of the whole person. The Chi Machine helps to relax stressed clients in preparation for counseling, especially for abused and distressed youth. For severely disable people the passive aerobic action of the Chi Machine helps circulation and flexibility. I also like using it in Art Therapy to help promote brain integration for greater creativity."


EMT, Reiki Master, West Bend, WI - Renny Mayer.
"After my EMT work, my field is shaken loose of mental and emotional debris, by using The Chi Machine. For my Reiki clients, the relaxation on The Chi Machine clears their energy field quickly to prepare them for a hands-on-healing session."




Chi Machine and FIR Hothouse Dome
used together for combination therapy.

Family Doctor - Board Certified, Tulsa, OK - Anne May, M.D.
"I am using both The Chi Machine and FIR Hothouse Dome as adjunctive therapy for temporary pain relief."


Registered Nurse, Indio, CA - Robert C Iniguez
"I discovered The Chi Machine very recently and I'm using it with a few patients. My patients are much more relaxed and their sleeping patterns have improved just by using the machine."

The Chi Machine is very popular with chiropractors,
normally used before/after adjustment to relax patients.


Marcelo A. Shanly, M.D.
 Clinica Integral De La Vision
 Ophthalmologist - 
Buenos Aires, Argentina
"I am an Ophthalmologist practicing in Buenos Aires, Argentina. I learned about the Chi Machine and the FIR Hothouse Dome at an ophthalmology convention in San Diego. I am using them with my patients in order to relax them, and some of them are still coming back for a new session later on because they receive temporary muscle relief."

S.W.A.T. Team / Deputy Sheriff , Rice, MN - Kurt Huver
"Besides my job as a Deputy Sheriff, I am also on the Advanced S.W.A.T Team. This means I can be called out at anytime of the day or night, besides already putting my day in as a Deputy Sheriff. This can be very stressful. I have found The Chi Machine to be very beneficial in energizing me, and helping deal with the stress that I incur in my job."


The Sun Ancon Chi Machine.
Classified as a Medical Device in Japan, Australia and Canada.



International Media
Athletes, Journals, TV, Magazines,
Spas, Health Care Professionals.

CONTACT US
24hr Hotline and Email.



HOME
Extensive natural health and nutritional guidance.


---


This website is for informational and educational purposes and is in no way intended to provide individual medical advice which must be obtained from a qualified health practitioner. Chi Machine International does not claim that any HTE product presented herein will diagnose, treat, cure or prevent any disease. ASK QUESTIONS, RESEARCH EVERYTHING.

Professional Health Care Practitioners Opinions and Observations, Chi Machine, USA.
©2002-2016 Chi Machine International, Independent HTE Distributor - Copyright - Privacy Policy