-
Asthma Testimonials - Sun Ancon Chi Machine.
Discontinuation of medication is a personal choice.

Asthmatic since 5yrs old.
An asthmatic since the age of five, over the years I have needed various medical drugs to help my breathing. 25 years of teaching and practicing yoga greatly helped, as has the good diet and quality supplement program I have followed for the last five years, but I still needed my medication.

After using the Chi machine for only six weeks my drug dependence went down every few days. A year later I have not needed my drugs for 10 weeks my energy levels are great, and I have avoided this winters colds and flu. - Mrs. B.D., Midlands, UK


30 years of Asthma.
Over the past 30 years I have been an asthma sufferer. In the last 6-7 years I have had a number of trips to hospital, sometimes for weeks at a time. I have had my Sun Ancon Aerobic Exerciser for about 6 months. My life has changed, I am able to live without the medication I was taking a number of times a day. - Marcia Pierce, Australia.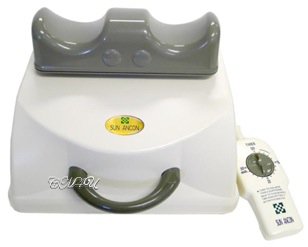 Sun Ancon Chi Machine
*


CUSTOMER TESTIMONIALS:
Asthma testimonials sent to HTE and Chi Machine International.

Lifelong Asthmatic.
I have a story to tell, which up until recent months could not have been imagined and I can only credit the success to my 'Chi' machine. I took delivery of my machine at the beginning of December 2000 and because of Christmas New Year celebrations I did not use it very often, I was too busy! It was the beginning of January 2001 that I started to use my Chi machine daily. They say that hind sight is twenty-twenty vision (seeing clearly - as it is) and that the really wise develop hind sight in the moment that they are in. I wasted the whole of the first month by not using it daily, but am now wise in this matter! Using the machine 15 minutes daily and with 'top ups' if required.
Since I was 5yrs old, or thereabouts I have suffered with asthma. Over many years have had to take various medical drugs to keep that asthma in a calm state. Sometimes I had to take more drugs than others, depending on my health status.

I have been seriously interested in health and well being for over twenty five years. I have practiced and taught yoga for that length of time. This certainly kept my breathing calm and benefited my health and well being, as a general rule. I work with people from all walks if life and all ages and have enjoyed sharing what I know and seeing the positive results in their lives. During the past five years or so, I began to study the food supplement scene and now have my supplement regime and safe personal care products routine. Again there was some improvement in my breathing and general health. You can see that I really take care of myself and love sharing my knowledge and experience with other people.

After using the Chi machine for only six weeks my drug dependence went down to every third day or so. Twelve months on using my wonderful Chi machine, it is so noticeable how very clear my breathing is. Sometimes, I can't even remember how long it is since I last used my drugs!!! Here I am, my body getting older (like every one else on the planet) and my drug dependency dropping away. Defies what I have ever been told about chronic conditions!

I know about Chi energy and I know how to boost it through my yoga, but since the Chi machine, more energy! My complexion has always been good and is even better, my health in general is much better, no colds or flu. At the time of writing this, lots and lots of people with the flu, (as usual at this time of the year), here in England. I am 'bright eyed and bushy tailed' and I've never been a slouch!. Thanks to my Chi machine my husband and I are enjoying better health and energy levels (his is another very good story).

In my professional life I only promote that which I know, has integrity, and very importantly works. I happily promote and sell Chi machines through my 'Healthy Routes' business. My business is growing and more people are enjoying better health and well being, through using their Chi machines daily. Some are so impressed with their own results, that they now have their own part-time business.. So it's good news all the way! THANK YOU - 23rd January 2002

P.S. 22nd April 2002 - it is now 9 weeks since I have taken any drugs at all for my asthma. This has never happened before in over 40 years!!! - Betty Dawkins 66yrs, Yoga Teacher/Health Consultant UK.

Bronchitis, Ulcerative Colitis.
The Chi Machine has worked wonders for me, it has given me back my life! I suffered with bronchitis for many years and I have been seriously ill with Ulcerative Colitis. Since using the Chi Machine - 2/3 times daily for the past 18 months, the results have been amazing! Besides having lots more energy, I no longer need to use my inhaler, my breathing is just fine and my bowel problem has gone, thanks to my change of diet and the Chi Machine. - M.T. - Cumbria, UK.

The Far Infrared Hothouse Dome is excellent for clearing
breathing problems and often used with the Chi Machine.

Asthma Attacks, Bronchitis, Overweight.
So far as we are concerned there have been great changes for the better in our health. A year ago Mary was a stone heavier (14lbs) than she is today and Simeon had persistent attacks of asthma, which could only be controlled with significant quantities of chemical. Mary was often listless, depressed and unable to face work as a self employed colon hydrotherapist and Simeon was frequently subjected to bouts of bronchitis following chest infections, which left him struggling to continue working as a self-employed barrister.

Neither of us had the luxury of sickness benefit or an employer to support us. However, daily sessions since December 2000 with the Sun Ancon Chi Machine combined with the Far Infrared Hot House since March 2001 have definitely done the trick for us. Now Mary has permanently lost that unwanted stone and is aiming towards losing the second one, and Simeon was able to write to his doctor, who wanted to prescribe him steroid medication and inform him that he no longer required any medication as his asthma was and is under control. - Simeon and Mary Chase Hopkins, Barrister and Complimentary Health Practitioner, UK.

Chronic Asthma.
I had chronic asthma as a child. The asthma recurred fifteen years ago. I was using an inhaler 2-3 times a day and taking a cortisone dose pack about twice a year. I had been on allergy shots for 6 years. Within 5 months after using the Chi Machine and the HotHouse I was able to stop my inhalers and all anti-histamines and decongestants. I have been symptom free of asthma since that time (August 2002). Since the spring of 2003 I have stopped allergy shots. I am symptom free of all allergies and asthma thanks to the wonderful Chi Machine and the Far Infrared HotHouse. - D. Ross, Texas, K.Wright testimonial.


NOTE: WE HIGHLY RECOMMEND VITAMIN D FOR ASTHMA PATIENTS. Vitamin D has been strongly linked as a major deficency in all patients suffering from asthma. Vitamin D comes from sunshine, and Omega 3 (Salmon, flax seed, walnuts and pumpkin seeds). Children inparticular need to get outdoors as much as possible, so they don't have to suffer through a lifetime of asthma attacks.


Testimonials
By specific health problem and by country.

International Endorsements
Magazines, spas, athletes, TV, health professionals.


14 day FREE Trial from day of delivery,
money back guarantee.
Fast UPS shipping, 2-7 day delivery worldwide.
Shipped from Los Angeles, Toronto or Sydney.




SITE MAP
Guide to entire site.
The most extensive Chi Machine website on the internet.
*
Please understand that although these testimonials are from real people, this does not mean that
any individual that subsequently uses any of these machines will experience the exact same results.
-