-
-The FIR-TO-GO Lamp.
Far Infrared Thermal Therapy.

THIS PRODUCT IS NO LONGER AVAILABLE.
OPTION: THE FAR INFRARED DOME.

The FIR-TO-GO Lamp first Introduced to Australia in 2000, a new innovation in complimentary healing therapy and relaxation, utilizing unique precision ceramics which are heated and transfer radiant Far Infrared heat, based on the famous technology of the FAR INFRARED DOME

Far Infrared Ray gently penetrate the epidermal tissue of the human body and elevate the body's surface temperature while increasing local blood circulation, promoting relief from aches, pain and soreness.

FIR-TO-GO has the same Far Infrared Ray benefits as a the FIR Dome 'Sauna' but costs less. The FIR Sauna is engineered to target larger areas of the body, whilst the FIR-TO-GO lamp targets specific smaller body area for Far Infrared therapy. You may also be sitting, reading or watching TV as you use it, as opposed to lying down under the FIR Dome.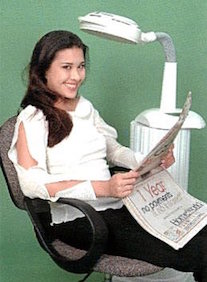 Far Infrared Therapy for Home Health.
Available for Australia only.



BENEFITS AND EFFECTS

1. Promotes circulation

.


2. Relieves inflammation, swelling, aches and pain.
3. Promotes elimination of toxins

.


4. Promotes tissue healing and regeneration.


5. Supports relaxation.


6. Unlike the sun which burns the skin, the FIR lamp soothes and promotes healthy skin.



SPECIAL FEATURES OF THE FIR-TO-GO LAMP:

1) Portable, small and lightweight topical warming unit.
2) Simple to operate.
3) Can be used anywhere whilst working, studying, watching television, talking on the phone.
4) Generates a gentle warmth, you may leave your clothing on

.


5) A perfect adjunct to massage and other manipulative modalities.


6) 8-10 micron Far Infrared wavelength complements the body's own wavelength of FIR.


7) The design permits easy rotation up or down, right or left, to suit your needs.
8) Automatic set temperature with a built-in, specially designed regulator for safety. A thermostat precludes any possibility of overheating.

SPECIFICATIONS:
Maximum height: 82cm
Width of lamp: 29cm
Weight: 9kg.


--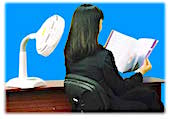 Portable Far Infrared Lamp
from HTE Australia.
DIRECTIONS FOR USE:

Set Distance:
The FIR-TO-GO should be placed 4 to 10 inches (10-25 cm) away from the targeted area of your body.

Set Time: Three options to choose from - 10, 20 and 30 minutes. Normal duration for warming any single place on the body is 10 to 30 minutes - maximum twice daily. Long-term benefits are gained by use on a regular basis. A very slight reddening of the skin is normal.Drink one glass of water after therapy.

Set Intensity:Intensity levels settings of High, Medium, and Low. You can set/change the intensity level while the unit is operating. Pressing and holding the "POWER" button will illuminate the indicator lights to indicate the present setting: High, Medium or Low.




CAUTION - When Not To Use:
The above unit should NOT be used if you:
Have any open wounds (it will close them)
Have a serious heart condition
If using a pacemaker or implanted heartbeat regulators
Have seriously high blood pressure.
Not advisable during pregnancy or breastfeeding.



----
FIR-TO-GO Lamp

SOQI Far Infrared Dome Sauna