-
BetaLoe
ImmuneSystem Support, Diet Supplement.
Prescription drugs, vaccinations, environmental pollution and chemically
bloated foods create a deadly immune system cocktail. Cold months and
holiday party season may also crash the immune system.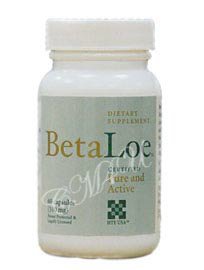 Certified Pure and Active.
Support your immune system and experience the synergistic benefits of the
combination of two remarkable substances, Beta-1, 3-D Glucan, and Aloe Vera.
What Is Beta Glucan?
Beta glucan is considered an external immunomodulator. External immunomodulators are substances that have been shown to modify the immune systems response to a threat upon it. It is an all-natural, food source derived dietary supplement. It modulates and potentiates the macrophage (white blood cells), keeping them in a highly prepared state for any threat our immune system may encounter. With this balancing effect, all subsequent immune responses improve. When your immune system is in this highly prepared state, the invading organisms do not have the time to build up force and strength before the immune system attacks, destroys and/or weakens the invader.

Beta glucan has over 1,600 general research papers ranging across 40 years. A majority of this health related research has been completed at some of the most prestigious institutions in the world, including Harvard Medical School, Tulane University, National Cancer Institute, Department of Defense and the Department of Agriculture, just to name a few. These studies have been performed on literally every health condition / disease known to humanity, and time and time again it has proven itself to be second to none. It has also been shown to provide beneficial effects in the sports / athletic health fitness field. - Source: www.muvazi.com/Beta-Glucans-Heal_ep_50-1.html

NOTE: For those interested in Beta Glucan healing wounds and ulcers, check out the Norwegian company 'Biotec Pharmacon'.


Two BetaLoe Key Ingredients:
1) The Beta-1, 3-D glucan is highly purified, over 93% pure, with a certified 1,3/1,6 carbohydrate content.
2) The Aloe Vera is certified by the International Aloe Science Council (IASC) and is guaranteed to be active.

Why should an Immune System Supplement be used?
Given that the FDA has approved all kinds of drugs which are contaminating our food and beverages, given that we are inundated with TV commercials for medical drugs that poison our cells, given that we are surrounded by EMF's (electro magnetic frequencies), given that AIDS and HIV is still rampant, given that SARS, Bird Flu and Anthrax is still a lingering threat, given that we are bombarded with chem trails ... our immune system is severely compromised daily.

Facts About the Immune System:
1) The immune system is made up of over one trillion white blood cells. They are responsible for the protection and maintenance of every other cell in the body.
2) Allergies, auto immune diseases, infectious diseases, and cancer are all results of a dysfunctional or incompetent immune system.
3) 72 hours after the complete shut down of the immune system, the flesh separates from the bones of the body.
4) The rate at which you age, is dependent upon the state of your immune system.

BetaLoe Benefits:

Safe, non-toxic, natural.
Activates white blood cell activity (macrophage, natural killer (NK) and neutrophil).
Helps to restore and balance an immune system.
Helps to maintain a healthy immune response.
Wound healing, tissue regeneration and repair.
Anti-Aging.
Radiation protection.
Anti-neoplastic effect.
Powerful antioxidant and free radical scavenger.
Helps maintain joint health.
Anti-inflammatory.
Gastrointestinal relief.
Helps to maintain a healthy cardiovascular system.
Biological vehicle.
As the foundation for good health, long life, and an attractive appearance, the prudent person looks to BetaLoe® Make absolutely sure that all the products that you buy have been appropriately tested to assure quality, safety from contamination, and that a verifiable dose is present in each capsule.

BetaLoe Ingredients:
Beta-1, 3-D glucan, along with a scientifically and independently certified aloe vera are the sole active ingredients in BetaLoe. The beta glucan is derived from the cell walls of baker's yeast, making it the precise substance for which the actual glucan macrophage receptor has been identified. Beta-1, 3-D glucan is technically referred to as a poly-branched poly-glucose - so complex some refer to it as fiber. The aloe vera is from the well known member of the lily family, Barbadensis miller with over 200 documented active biological compounds.

BETA GLUCAN had been studied for over 40 years. There are over 1,800 MedLine references and 800+ peer reviewed studies. Prestigious institutions such as Tulane University, Harvard Medical School, Sloan Kettering, Cornell University, Brown University, Auburn University, U.S. Armed Forces Radio-biology Research Institute, and University of Massachusetts, attest to the immune activating and protective effects of Beta-1, 3-D Glucan. Beta glucan, also, helps your immune system to very accurately recognize "self" so that you don't experience auto-immune reactions.

University and independent laboratory studies have not been approved by the FDA and we were warned by them in January 2005 not to actually publish any of our research, results or Dr's testimonials here. To include such information would classify this product - BetaLoe - as a drug which it is not. In other words, the FDA prefer you don't know about it. So instead, here are links that will tell you some of the most important findings regarding Beta Glucan:


Dr. Vaclav Vetvicka Pd.D. is an authority on Beta-Glucans. His research is extensive.
www.louisville.edu/~v0vetv01/glucan.html

JANA - Vol. 5, No 2 Spring 2002 - www.biotherapharma.com/pdf/glucan-reprint5-2.pdf
Article printed in the Journal of the American Nutraceutical Association. Pilot study led by Vetvicka. MUST READ.

Articles on Biothera compounds that were published in peer reviewed science and medical journals.
www.biotherapharma.com/scientific-articles.htm