*

CHI MACHINE TESTIMONIALS USA.

Voluntary Opinions and Personal Experiences.

"I am a Neurodevelopment Therapist who works with children labeled as ADHD, Dyslexic, Autistic, or with any serious learning problem. When I was first shown the Chi Machine, I didn't make the connection with its possible use in neural systems therapy. Over time, however, I did decide to try the Chi on some of my patients. There were excellent results in combination with therapy: A girl went from crawling to going upstairs and walking; a boy started speaking more clearly; many others became calm and focused. The workout of these sub-systems in a passive enjoyable way makes it more likely that students will adhere to the therapy." - Janet Oliver, Child Neuro-development Therapist, MD, USA.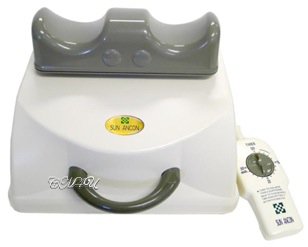 Sun Ancon Chi Machine
Simple to use, for all ages 4yrs to 100 yrs.

PERSONAL TESTIMONIALS.

DISCLAIMER: Reviews are voluntary anecdotes from individual users sharing what they personally experienced, relevant to their lifestyle and state of health. These personal opinions do not necessarily reflect results that other individuals may or may not experience. These reviews are not to be used as medical advice and are not presented with the intention as such. Whilst real-life experiences can be a helpful resource, they are not a substitute for medical advice, diagnosis, or treatment from a qualified health care provider. Consumer reviews themselves are not reliable scientific evidence. HTE and the American FDA do not endorse any review found herein.

"From very early on in my life I have had somewhat of a stormy personality. Especially when things didn't go right. The last few years have been as stressful as ever business wise and personally. A year and a half ago, someone introduced me to The Chi Machine. I tried it after a little prodding. On my way home I felt a calm in my voice and my being that I had really never felt before. I used it again and I had my sons and a couple of their friends try it too, just to make sure I wasn't having an out of body flash back. They experienced the same calming effect. I purchased a machine and things haven't been the same since.


I found, for me, using it for 12 minutes a night before I go to bed works best. My sleep is awesome. If I don't use it I have broken sleep pattern that is more restless. It also relieves stress like you can't believe. I use it before softball in the summer to help get me loose, so I can still play at a fairly high level and have fun doing it. I play basketball, bowl, walk and run 3 miles a day, do 70 -755 push-ups every other day, lift weights and enjoy sporting activities. In general, I can do everything I could do when I was 25. At 50 years old that says a lot. The Chi Machine has given me more energy than I thought possible and the chest and pains I used to have are nearly gone. Also, the "CHI" effect immediately after using it, is mind boggling. I haven't had a full blown cold for nearly 2 years. I know The Chi Machine has increased my immune system. No telling how much good it has done for me internally." - Darrell P. 50 yrs old, USA


"Throughout the years of my 20's and 30's i've had bad back and neck issue's that left me aching in pain most of the time. My knee's have also ached and felt like they've been full of fluid by the end of most days. I would always get a cold early in the fall that would run all the way to spring. On top of all that, i was also dealing with asthma. I figured i would have to deal with the aches and pains, and that i just had a really poor immune system. Since this was all still happening when i was fairly young, i worried what i would be like as i got older.

I started looking for more natural help through the Herbal Pumpkin Patch in town and in doing so, i got to know Laura who worked there. I asked Laura if she knew anything that would help my mom who was really suffering with pain from deterioration and herniated disc's. This left her pretty much flat on her back for about 3 month's. Laura told me about the Chi Machine - so my parents and i ordered one each.


It only took a few days for my back and neck to start feeling better, i was also really amazed at how much more energy i had. I didn't use the Chi Machine longer than 7 minutes at first for a couple of months because my right knee would start to hurt if i did. Now, once i get past the 7 minutes my knees don't ever ache or feel like they are swollen.

One day, Laura asked me if using the Chi Machine had helped with my asthma. I stopped for a minute to think about it and realized that i wasn't really sure when i had last used my inhaler. The Chi Machine had taken care of my asthma and i didn't even realize it. My immune system had seemed to have gotten much stronger as well since i made it through the next fall and winter with only a couple of very manageable colds.

Within a week my mom had also been noticing differences in her health. She was doing things she hadn't been able to do in weeks.". - Susan Blackbird, Hutchinson, MN - Spring 2013


"We are often occupied with urgent matters, and have neglected to take care of our health. Over the years we have seen our health deteriorate. We have tried a rowing machine, lifting weights, joining a health club, and jogging on a quarter mile path around our house. We started each exercise enthusiastically with high hopes, but lost the commitment because of the effort and time required.

One day, a relative introduced us to the Chi Machine, a passive exercise machine. After a brief introduction, we made the risk free investment for our health. We have developed a habit of using it several times a day because it is so comfortable and easy to use. It requires "no" effort, and takes a total of 15-30 minutes a day. Since using the Chi Machine, our lives have improved dramatically.

The most dramatic result is the tolerance I have developed to food that I had been allergic to for the past 20 years: wheat, corn, potato, tomato, oat, barley, rye, milk, caffeine, and MSG. I would take Seldane an anti-histamine, to temporarily overcome the itchy effects of the allergy. Since using the Chi Machine, the itch has reduced so significantly that I have not taken a single pill because of food allergy. I have more energy and stamina than ever before. My lower back pain and neck and shoulder stiffness have been significantly reduced.

Cathy's waistline and thighs have trimmed, her complexion has cleared up, her digestion has improved, and she sleeps more soundly. Her tennis elbow and herniated disc pains have decreased substantially." - Kaiman and Cathy Lee, USA

"I have cerebral palsy, polio in my left leg and am coming back slowly from a deep depression. My sister has a Chi Machine and when I came to live with her she showed me how to use it. I got on it for five minutes a day in the beginning and felt relaxed the first day. I've been using The Chi Machine for 3 weeks and have gradually worked up to 10 minutes twice a day. I can't believe how much calmer and self-assured I feel. I have been in a lot of pain in my legs due to the cerebral palsy and now I feel relief from the pain. I use a walker to get about but I am in less pain and can walk longer distances." - Delia P, USA


"I was out of work as a result of surgery made necessary because of a car accident when I discovered The Chi Machine. I thought it sounded too good to be true, but it actually relieved the arthritis in my 75 year old mother's hands and diminished the cellulite in her thighs.

For me, the best benefit was an internal massage, which was instrumental in helping me to conceive our first child after 15 years of persistence. I am 42 years old and have been married for 20 years. A dear friend who is 39 years old also conceived while using The Chi Machine regularly. My husband, who was very skeptical, uses The Chi Machine for spinal relief, muscle fatigue and asthma. He loves it, it also helps him sleep restfully, and awaken refreshed and sharp." - Cecelia M. Verardi, USA - 42yrs and her Mother 75yrs



"Three years ago my life was great. I am a certified weight loss counselor and do nutritional counseling. At that time I was happy, healthy and fit and enjoyed the financial prosperity that helping people had brought me. A freak accident happened that changed my life. While putting something in the trunk of my new Lexus the torsion bars failed and the trunk lid fell sending the latch of the trunk lid through the top of my head. My brother found me 30 minutes later sitting in a pool of blood. Over the next few months I became very depressed. I was in constant pain in my neck, shoulders and back. Old health problems that I had previously put behind me began to return. I had gained a lot of weight, I had no energy and my nerves were shot. I have spent the last three years, trying everything to return to my former happy self, with little success.

I was introduced to the Sun Ancon 'Chi Exerciser' by a friend, in June of 1998. I started faithfully using it every single day. The first thing that I noticed was an area in my lymph system that had been very tender, no longer hurt. The doctors had previously told me my lymph system was so congested that I would need a series of at least 25 lymphatic massages. So you can imagine how impressed I was at my bodies response to the Chi Exerciser in only 9 short days of using it 5 minutes twice a day. My back, neck and shoulders have continued to get looser, and I have much more movement. I can now lift my left arm over my head, which I hadn't been able to successfully do in three years.

I recently went to my MD and had a Basal Metabolic Rate Test and I was told that my oxygen uptake and heart rate were that of a 20 year old. The doctor performed a dark field blood analysis and my blood was clean and very healthy for the first time in over 20 years that I have been having this test done. He said it was great looking, and he rarely saw such good blood in 20 year olds. Not bad since I've just turned 50. My health and vitality is returning and I'm feeling more like 'me' every day." - Cheryl Larimer, 50yrs old, USA

FOOTNOTE: Cheryl's doctor was so impressed he bought two Chi Machine's for his home and office.

"For my entire 39 years I have been a light and awful sleeper. Every time I use the chi machine, I SLEEP and I sleep deeply through the entire night. I also no longer wake up severely aching and sore (due to my martial arts classes and athletics).

1) The Chi Machine started reversing the chemistry of a bone spur on my heel that had crippled my mobility beginning just before we acquired the equipment. Within two weeks, the pain was totally gone. However, four months later when I tried to locate the bone spur, I found it unquestionably. Some two months later, however, we could not locate it. It was totally gone.

2) The Chi Machine has allowed me to eliminate chronic back pain, significantly reduce muscle and joint stiffness.

3) In my professional practice of SHEN Physio-Emotional Therapy, I work with survivors of abuse and trauma. The Machine is invaluable for me personally and professionally. My mother, who teaches transformational body-work has created a group of medical doctors and psychologists who are using the Chi Machine in Germany.

4) With the use of The Chi Machine I avoided back surgery. I use it after a hard day's work in my construction business to take the pain out of my legs after standing on them all day. Also, great after a day of snowmobiling to work out the sore muscles!

5) From the time I first acquired a Chi Machine to relieve a bronchial/asthmatic condition, I have found this to be a major help in my life to provide me with a quality life. Not only did its use clear my respiratory problems, it has relieved the tension of daily stresses contributing to a major boom in my energy level." - Dawn Rosella, USA

"My clients all report that the Chi Machine feels great. Their total workouts are more effective with the machine. My massage staff and personal trainers have found it to be a wonderful addition to the services we provide. It helps combat vasodilatation (dizziness caused from pooling of blood in vessels) after completing a workout. We have set aside a private space in our fitness center where many clients go to "Chi" after working out." - Hans Roth, owner of FIT Health Club.

"We use The Chi Machine before each body wrap. We get better inch loss and relaxation. We have found this helps with the lymphatic system. Our clients like the feeling they get when The Chi Machine stops, this relaxes them better for our spa treatments." - Wellness Center and Spa, Hamilton, Montana - Health and Harmony.



"I am a 92 year old female and have been married to my ninety-four year old husband, George, for 64 years. For many years, i have suffered from a nervous condition requiring visits to doctors and having prescription drugs for treatment of the condition.

Finally in 1995, after years of suffering, i made a trip to Mayo Clinic in Rochester, Minnesota. After several tests, i was diagnosed with Parkinson's Disease which is a chronic progressive disease affecting equilibrium among other things. There is no known cure. However, some drugs aid in dealing with this affliction on a temporary basis. One of my main complaints was the burning sensation in my feet and legs which bothered me except when i was asleep - on a scale of 1-10, most times it would be about 12. Not only was the pain hard to deal with, but it was depressing. Sometimes i felt like giving up.

Finally, my daughter found a doctor in Des Moines, Iowa that dealt with patients suffering from Parkinson's Disease, so we moved to Ankeny, Iowa to be near our daughter so she could take me me to appointments. This doctor said that i was on far too many drugs, took all of them away and prescribed two new ones. I was taken to the hospital in May 2001 and assigned a new doctor. He arranged for hospice to come to our home to aid in care. He also prescribed a gel made up of 5 medications. My husband had to apply that to my toes hourly. One day i discovered red streaks going up my arm. After alerting the doctor, he told me to discontinue the gel immediately as my body had an intolerance to the drugs it contained.

My daughter continued researching to find something to help me. She found 'Young Living Natural Oils'. We chose a supply of these products and applied them to my feet and legs on an hourly basis. This did help me temporarily but had no lasting effect.

Then, my daughter found the Sun Ancon Chi Machine and the Far Infrared Hothouse and i began using them. What a change they have made in my life! The pain from the burning sensation now ranges from a two to four on a scale of ten. It had helped tremendously with my equilibrium and i can now walk unassisted and maintain good balance. In fact i was able to carry a tray containing two glasses of orange juice from the kitchen through the dining room and into the living room without spilling a drop.

During a visit to the beauty shop, my operator asked me what i was doing to my hair. She said it was so much thicker, darker and healthier looking. I attribute that to the use of good hair products, good nutrition, vitamins, bottled water, as well as the FIR Hothouse Dome and The Chi Machine.

In closing, i just wanted to say that the use of the Chi Machine and the Far Infrared Hothouse has made a very marked improvement in the quality of my life. For that i will be eternally grateful." - Beulah Patton.

"We got our first (Sun Ancon) Chi Machine almost a year ago figuring it was a hoax. We were SO pleased to find that it not only worked for aches and pains, but also for for depression and severe sleep disorder, mental clarity for all the students in the family, and so much more." - YouTube comment 2011 after 'The Doctors' TV show featured the Sun Ancon Chi Machine.

"Since using The Chi Machine, my breathing/lung capacity has seemed to increase. My desire to move more has increased as well. I've had less colds (almost nonexistent), so I'd definitely say my immune system has benefited. When I use the Chi Machine regularly, I am more peaceful and relaxed and I sleep MUCH better, which contributes to how well I experience all other aspects of my life." - Barbara Zabel, USA

"On September 20th, 1997 1 tried The Sun Ancon Chi Machine for the first time. I felt the 'CHI' that everyone was talking about and I was excited about the potential. September 26th my own machine arrived. We used it for 5 minutes initially. Within a few days my sleeps were far more restful and my temperament was so much better. I was handling my son's nappies better. Dreams were vivid, more clear and able to be totally recalled.

By the first week I had more energy. First period in years only lasted 2 days and I felt no discomfort - I didn't know it was there. My depression decreased and I had an all over feeling of well-being. For one month use on a steady basis I can report a 2 kg weight loss. Hearing is returning to my deaf left ear. I use The Chi Machine to help me relax and enhance my digestive process." - Anne Therese Clark, Fort Lauderdale, Fl, USA.






SPECIAL OFFERS


Check monthly specials.

-