SOQI Aqua Face Masks - x10 per box.

Most effective results when used with
the E-Power Machine for 15-20 mins.

US$40.00

What is Facial Electrotherapy?

The latest development in skin care, is facial electrotherapy - stimulation of the skin via different low electrical frequencies to produce various therapeutic beauty and anti-aging benefits. When any creme or liquid is applied to the skin, the electrotherapy allows the ingredients to be better absorbed thereby enhancing benefits.
Many women now utilize this form of skin care maintenance to boost collagen elasticity, stimulate circulation and tighten facial muscles. Anyone who watches "The Housewives of Beverly Hills" has seen the women go to expensive day spas for regular electrotherapy skin care treatments.
In this case,
THE E-POWER MACHINE
is used to conduct the electrotherapy rejuvenation of the whole body. When the SOQI Aqua Facial Mask is applied at the same time, the ingredients of the face mask penetrate deeper and more efficiently, temporarily softening wrinkles and rejuvenating the skin, whilst reducing inflammation and enhancing water retention.
Made from 100% sterilized wood pulp fiber.
Exact fit to the contours of your face.


Main Ingredients:
Aloe Barbadensis Leaf, Extract, Soluble Collagen, D-Panthenol (Vitamin B5), Dipotassium Glycyrrhizinate, and Sodium Hyaluronate.

Hyaluronic acid and Aloe leaf work by drawing moisture from the air and adding it to your skin.
Hyaluronic acid and Vitamin B5 sooth and moisturize, improving elasticity and firmness.

For all skin types, especially dry, and normal/dry skin.

Benefits Include:
Light on the skin, does not clog pores.
Enhanced water retention to moisturize and hydrate skin.
Soothes, repairs, improves, regenerates,.
Promotes skin pH balance.
Reduce skin inflammation.
Promotes collagen flexibility.


Home facial utilizing electrotherapy.
Aqua Face Mask Instructions:


1. After cleaning and removing all make-up, open pouch, carefully take out mask (much like a wet paper towel) and remove plastic covering.
2. Place mask on face, laying it as flat and smooth as possible on skin - use eye, nose and mouth openings for reference as to placement. Use your fingertips to smooth and remove any air bubbles.
3. Turn on E-Power machine for 15-20 minutes, lie back and relax.
4. When session ends, turn off E-Power and remove mask. You may wash off face, or best to let it dry naturally, leaving the mask ingredients to sink into the skin.
5. Aqua face mask may be used once a week, or whenever skin needs a facial rejuvenation for a special occasion.
The face mask may of course be used without the E-Power machine, but the benefits will be less enhanced.
NOTE: There are no electric shocks involved as experienced with facial lasers.
---
SOQI Aqua Face Mask Experiences:

1)
Diminished wrinkles and firmer jaw line.
"I was requested to try a collagen facial mask while on the E-Power machine. I am a regular user of the E-Power and i have wrinkles so this was a perfect trial. The mask has the collagen product right on it. You just place it over your face and press it around the eyes, nose and mouth so it will stay in place. Put your E-Power on high for 10 minutes and relax.
I was amazed with the results especially my jaw line. The combination of the mask and E-Power gave my face a smooth as silk feeling and a noticeable improvement in the depth of my wrinkles and tightness around the jaw line. I am very impressed".
- Crystal Billings from Woodridge, MB, Canada, January 2009.
2)
Teresa in Los Angeles, age 45yrs - Spring 2009/2013:
"I have super sensitive and dry skin, and was initially wary to use the mask but quickly realized it was water soluble. I tried it out with the E-Power and was thrilled. I had no reaction and my skin was soft, smooth, silky and moisturized. My fine lines and wrinkles had also noticeably diminished. Great for use before a night out or for anti-aging and skin maintenance."
Update Spring 2013: "I'm still using the face masks and very happy with the results. I use the mask before a special event or for a facial pick-me-up as it makes me look and feel lovely".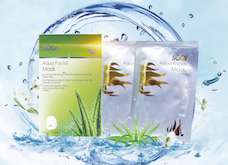 SOQI Aqua Facial Masks come x10 per box,
not sold individually.
US$40.00